Alumnate, Brainchild of AlmaShines (an Ed-Tech Start-Up), is the most Career-Centric Student Conference conducted with prestigious Institutions of Ahmedabad. The main aim behind Alumnate is to utilize the untapped, yet closest, resource available to the students – their Alumni – and all that they have to offer in terms of Knowledge, Skills, and Opportunities.
In the second edition of the Student Conference, Out of 400+ Applications, 100 of the best students from colleges of Ahmedabad and Gandhinagar were handpicked as the Student Delegates, to be a part of this insightful conference which was a source of inspiration and motivation, to not give in to the hurdles and achieve the apex through constant perseverance.
Alumnate was honored to host speakers who cut through fierce competition and made their mark in their respective field.
The Founder & Director of AlmaShines,Mr. Kapil Dev Advani, delivered the Key Note Speech, where he emphasized the importance of one's Alumni pool and reiterated it through his personal example of being inspired by former students of IIT Kanpur, his Alma Mater.
Words of Wisdom-This was a session where the top leaders, shared their success story, and the Highs and Lows they had witnessed to reach the apex of personal and professional growth.
This year, the session was graced by:
Mr. Alpesh Patel (Director, Dutron PVCs)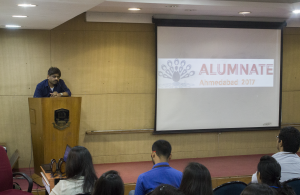 Dr. Krishna Mehta (Lawyer & Assistant Professor of Law, Nirma University)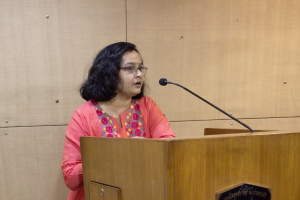 This year's Inspire Series was on:
1)      Entrepreneurship & Off-Beat Careers
Guest Speakers:
Mr. Vivek Chaudhary (Founder, Videowala&Travrse)
Mr. Dhaivat Jani (Drummer, Meghdhanush)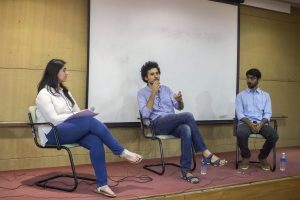 Both the speakers talked about following one's passion. They emphasized on the ground reality that comes with pursuing any unconventional career – that of being financially unsecure initially and harboring criticism – but overcoming them by sheer hard work and patience.
1)      Corporate Culture
Guest Speakers by:
Mr. Kaushik Patel (Senior Business Analyst, TCS)
Ms. HarshitaPincha (Senior Tax Consultant, EY)
Mr. Tej Shah (Venture Capitalist, MayField Advisors LLP)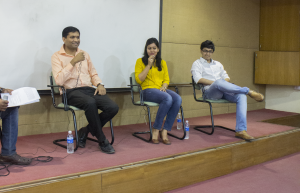 This gave them a firsthand perspective of the Corporate Culture, and key learning on what values and attitudes can take them high towards success and prosperity.
The Mentors' Studio (Workshops)
In Mentor's Studio, the students are given hands on experience on the professional skills, that can help them in their professional growth. This year the mentors guided students for subjects like:
1)      Public Speaking, by Parth Trivedi (Public Speaking Enthusiast)
2)      Cracking Placements, by RaunakMundhra (Sales Manager, ICICI Lombard),
3)      Building a Start-Up, by ChiranjivMelwani (CA, Assistant Manager – Deloitte Haskins and Sells)

Start – Up Career Expo
A new feather added to the Alumnate hat this year was that of connecting promising start ups of the city to the resource pool of bright students creating a win-win situation for both the sides. Start-Ups like the following presented their workings and interested students applied for an internship experience with them:
–          Quicko (e-filing of IT Return),
–          Cash Basket (coupons for online shopping)
–          Konnect Health (health tracking tools)
–          Pole Talks (location based review interaction)
–          Dialogue Makers (for-profit social venture creating empathy for the Deaf & Blind)
–          Funkaar Gigs (online curated marketplace to discover and book live music)
All in all, the Alumnate conferences have been successful in connecting the students with their Alumni, extracting the best tips and encouraging the student pool to gain from it.