Institute Name: Indian Institute of Technology, Delhi Alumni Association
Established in the year 1961, IIT Delhi Alumni Association is one of the few institutions to manage and engage its alumni. It has 40,000+ Alumni and IITDAA works with a singular agenda of connecting a well-knit network of all IIT Delhi Alumni.
In order to engage their alumni better, IITDAA subscribed an alumni portal expecting a huge participation from the alumni and providing a robust channel to alumni to connect with their Alma mater. The platform was launched across all channels to seek alumni participation. In a span of one year, the participation died down to 0 Monthly active users & IITDAA lost its hope to provide a sustainable channel to its alumni. The challenge faced by IIT Delhi was in terms of alumni engagement through participation.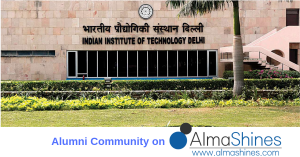 Solution:
AlmaShines started working with IITDAA Jan 2018 onward and their alumni platform went live in Feb 2018. With the platform going live, many alumni started talking about the unique functionalities and value creation by the platform, which was evident by 6000+ alumni getting active on the platform without any formal announcement yet. Now IITDAA is working on many engagement campaigns and with the strong tech ability of AlmaShines by their side, they have already started great traction and see 60% Alumni activity on the platform every month.
Connect Now To Engage Your Alumni Like Never Before!