Institute: Indian Institute of Technology, Madras
IIT Madras, established in 1959  is one of the most reputed institutions in India. In 2017, they had been struggling and taking exhaustive measures for the last 2 years to engage their alumni like never before. To kick start their initiatives they launched an alumni website. As the efforts started showing good results, they explored new dimension of Alumni Management. They needed a solution that not only communicated or engaged the alumni, but also help them serve these alumni better!
The challenge they faced was in terms of office automation; getting a one stop solution to alumni management.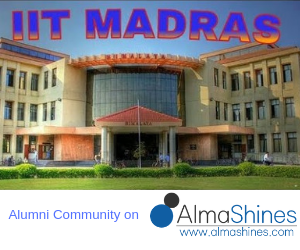 Solution:
AlmaShines started working with IIT Madras Alumni Association since Dec 2017 and they were all set to go live with their new Alumni platform by Jan 2018. With the launch of the platform, IITMAA covered a whole next level of alumni engagement; query redressal, chapter meets, alumni icard management and tons of other stuff was being managed on a single dashboard, hence making IITMAA Office automated!
Connect Now With AlmaShines to get your Office Automated!